Description

This network radio is fully compatible with the International Radio Network (IRN) and with the new Echolink for Android.
Is this still hamradio? Read this article.
Are you looking for two way radios? You just found the best radio shop!
What if you could have a walkie talkie app on your phone? Let us introduce you the best walkie talkie app ever made: Zello is walkie talkie app for android, iphone, IOS and there is also zello for PC.
This radio-like smartphone has a PTT that will key up the transmitter. As far as you have a dataplan or a WiFi connection, then you have yourself a two way walkie talkie app with worldwide range.
First, download the Zello app. Then, just press your zello PTT button and you will be heard!
You can have 1-to-1 private communications, or 1-to-many communications on a private zello channel. There are also many public zello channels, with different purposes, around the world.
Some hamradio RF networks are connected to Zello private channels. With such, if you are a licensed ham, then you can stay online with zello and have QSO's with your ham friends. There are many zellos worldwide. Would you like to become one? 🙂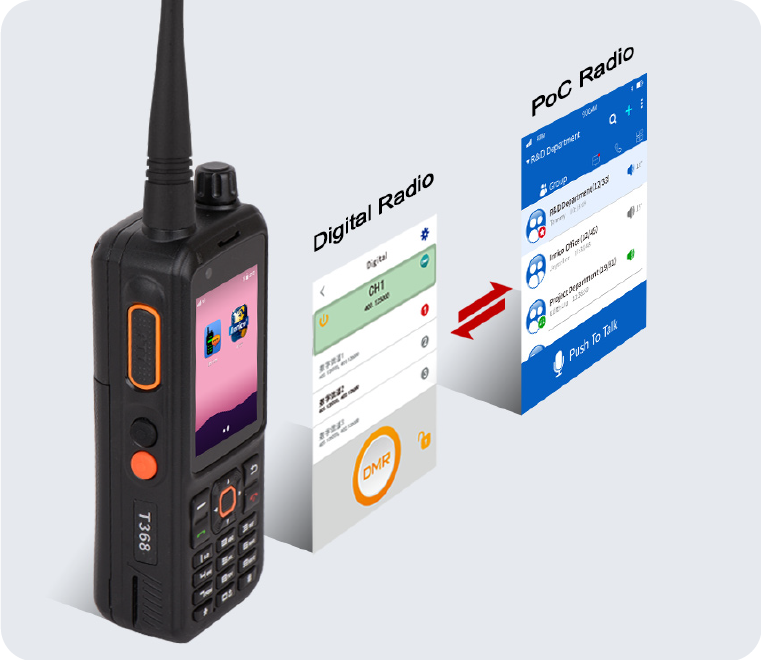 Frequency: DMR UHF 400-470 MHz

Model

T368

EU version

GSM: B2/B3/B5/B8
WCDMA: B1/B2/B5/B8
TDD-LTE: B38/B39/B40/B41
FDD-LTE: B1/B3/B5/B7/B8/B20/B28a/B28b

US version

GSM: B2/B5
WCDMA: B1/B2/B4/B5
FDD-LTE: B1/B2/B4/B5/B7/B12/B13/B17/B28a/B28b

Maximum Transmission Power

UMTS2100/1900/850/900: Power Class 3 (+24dBm +1/-3dBm)
GSM/GPRS900MHz: Power Class 4 (+33dBm ±2dBm)
GSM/GPRS 1800MHz: Power Class 1 (+30dBm ±2dBm)
EDGE 900MHz: Power Class E2 (+27dBm ±3dBm)
EDGE 1800MHz: Power Class E2 (+26dBm -4/+3dBm
LTE B38/B39/B40/B41:Power Class 3(+23dBm±2dBm)
LTE B1 B3 B5 B7 B8 B20 28A 28B:Power Class 3(+23dBm±2dBm)

Receive Sensitivity

WCDMA2100 : ≤-107dBm
WCDMA1900/850/900 : ≤-105dBm
GSM850/900/1800/1900 : ≤-102dBm
LTE B1/B3: ≤-97dBm
LTE B38/B39/B40/B41 :≤-93dBm
LTE B5 B7 B8 B20 28A 28B:≤-94dBm

Wi-Fi

Operating Band: 2.4G & 5G Standards:IEEE 802.11/b/g/n

Bluetooth

Version: BT v4.0 with BLE Operation Distance: (Max) 10 meter

Location

GPS,BDS,AGPS

Hardware

CPU

MTK6739, 1.2GHz

Memory

1GB(RAM)+ 8GB(ROM)

TF Card

Support, up to 32G

SIM card slot

Standard SIM card +NANO SIM card, TF card

USB ports

Micro USB 2.0

Interface

M6

Touch

G + F touch screen

Display

2.4"

Camera

Front Camera:2.0MP,Rear Camera:13.0MP

Speaker

Ø36mm speaker,8Ω 2W

Microphone

Dual Microphone, Noise reduction

Battery

6000 mAh

Communication Times

POC:18H
DMR:15H

Standby Times

POC:22H
DMR:45H

Software

Operation System

Android 7.0

Physical

Dimension (H*W*D)

140X64X35mm(Without Antenna & Belt clip)

Weight

≈300g

Working Temperature

-5°C ~ 55°C

Storage Temperature

-40°C ~ 80°C

Certifications

Protection Level

IP54

Drop

1.2 Meters

Certificate

CE/FCC/ROHS