Description
Description
PTT4U is a state-of-the-art network radio service.
Relying on the GSM signal, our radios will be able to talk to each other without any range restriction. Each radio works with a SIM card (not included) and uses GSM/3G/4G and some models even work with WiFi signal. This means you don't need to spend a fortune on expensive radio infra-structures, repeaters, antennas or leasing sites. All the network infra-structure is provided by the GSM carrier.
«All of my units are working very well. I have crews scattered all over several states in the US and we are communicating in a superb manner. I had men at 700 ft. on a broadcast television tower talking to the men on the ground, 200 miles from my locations, and I was able to listen in to every word. PTT4U will be a game changer for me.»

Bruce Holsted, Holsted Operations
Read our FAQ section for detailed information.
Private and group calls are available. Your team members can be in different countries and still within reach. Each user can check each other's location (based on their profile), send messages and SOS alerts.
A complete desktop Dispatch Center is also available and a Platform Management Console allows you to have complete control of your radio fleet.
All you need to do, is to purchase our network radios, depending on your needs, insert your preferred carrier SIM card on the radios (a monthly data plan of 500MB will be enough) and subscribe the yearly PTT4U service. You will need one yearly subscription for each radio. And that's it! No more headaches.
Our PTT4U app comes pre-installed on all our android radios.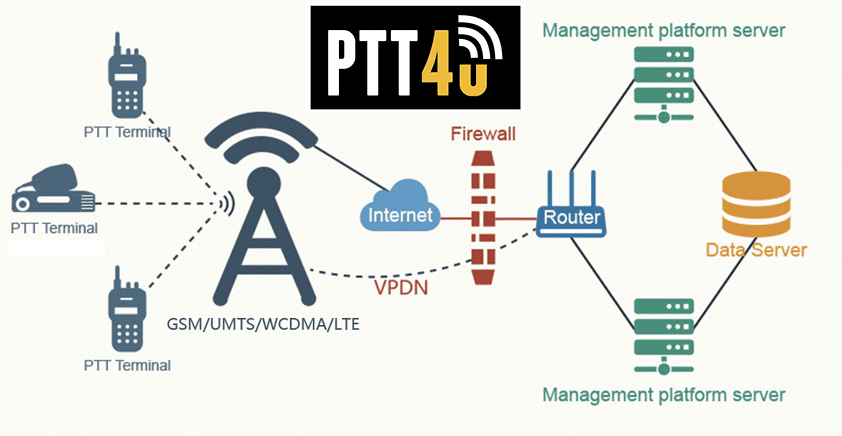 You can also connect PTT4U to an existing conventional radio infra-structure, with our crosslink solution.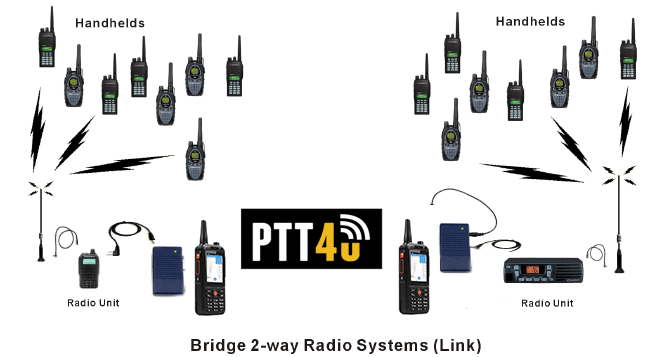 Is this for me?
Any of the following industries can use our solution:
Transportation
Courier, Taxi, Limo Service, Tow truck, Railway, Airport, Seaport, Light rail, MRT, Logistics
Construction
Constructions Site, Cement delivery, Electrical, Excavating, Plumbing, Roofing
Security Services
Patrol Guard Service, Hotel, Condo, Offices, Factory, Sports events, Education, Fire Service
Hospitality
Restaurant, Hotel, Resort, Shopping mall, Supermarket
Government
First Responders, Police, Sheriff's Departments, Public Works, Water Departments
Private users
Many private customers use our service to stay in touch with family and friends
The AnySecu 3G-W1 is a robust mobile radio, fully compliant with the PTT4U network, with global range.
Main Features
* Unlimited Groups* Unlimited Friends

* Unlimited Members (max 120 / group)

* Single Call/Group Call/All Call

* Call Records

* GPS Location

* Dispatch Monitor/Call/SMS

* Vol Control

* Back Light Regulation

* Key Beep on/off

* Time-out-Time

* Program password Lock

* Remote Upgrade

General Specification
Frequency Band
GSM850/EGSM900/DCS1800/PCS1900
WCDMA:850/2100MHz or 900/2100MHz
Dimensions(L*W*H)
120x95x38 mm
Weight
280g
Color
Black
Warranty
1 Year for Radio and 6 months for accessories
Package
1*Radio,1* Power cabel,1* Belt Clip,1*Hand speaker Mic
Optional Accessories
1*AC Adaptor,1*Car Charger

Power connection diagram:

1) Red:+12V
2) 
Blue:
 GND
3) Black: Ignition (optional) – used to turn on the radio when the ignition starts
In most cases, we ship the radios pre-programmed for a specific cellphone operator. But sometimes, you might want to make changes to the radios.
First of all, make sure that the SIM card does not require a PIN code. Use a normal cellphone and confirm that PIN code request is disabled. If the phone requires the PIN, then enter your PIN and go to settings and disable the PIN. Only when you are 100% sure that the SIM card is PIN-free, you should continue with the programming.
Make sure the 3G antenna is connected to the GSM connector. It could inadvertently be connected to the GPS connector. These radios will not pick up the signal if the antenna connections are not right.
To program these radios, you need to install this Programming Software for Windows and a special programming USB cable, that you should receive with your radio.
Switch off the radio.
Plug the USB cable to the computer and the other end to the radio.
Start the software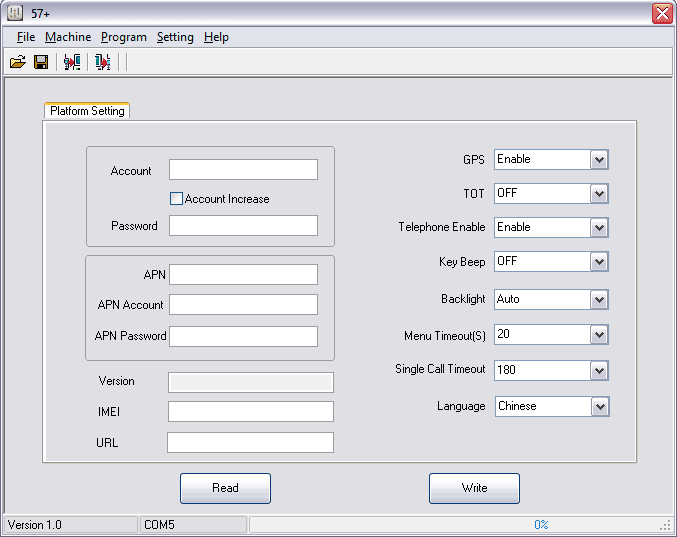 Go to Settings / Port
Make sure you select the Port that is in bold like in the picture below. Otherwise it will not work. (in the example is COM9, but it can be a different one in your PC)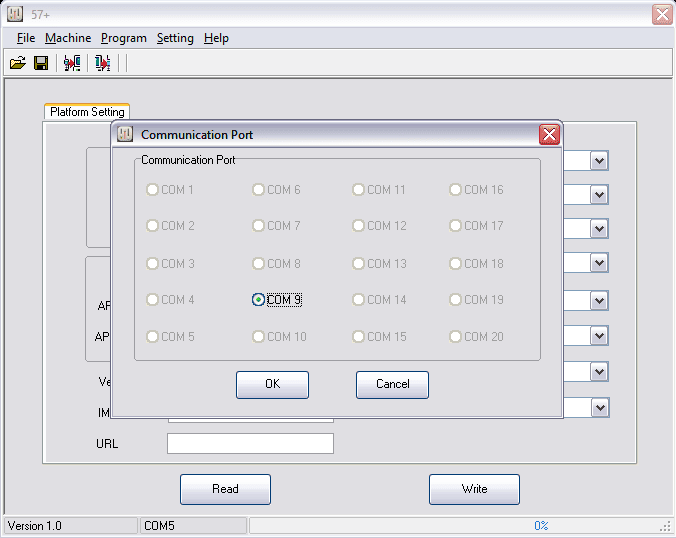 Switch the radio in programming mode.

To do this on the 3G-GT200, power on the radio while pressing the PTT
On the 3G-W1, press and hold the down-arrow key, while powering-on the radio. (see picture below)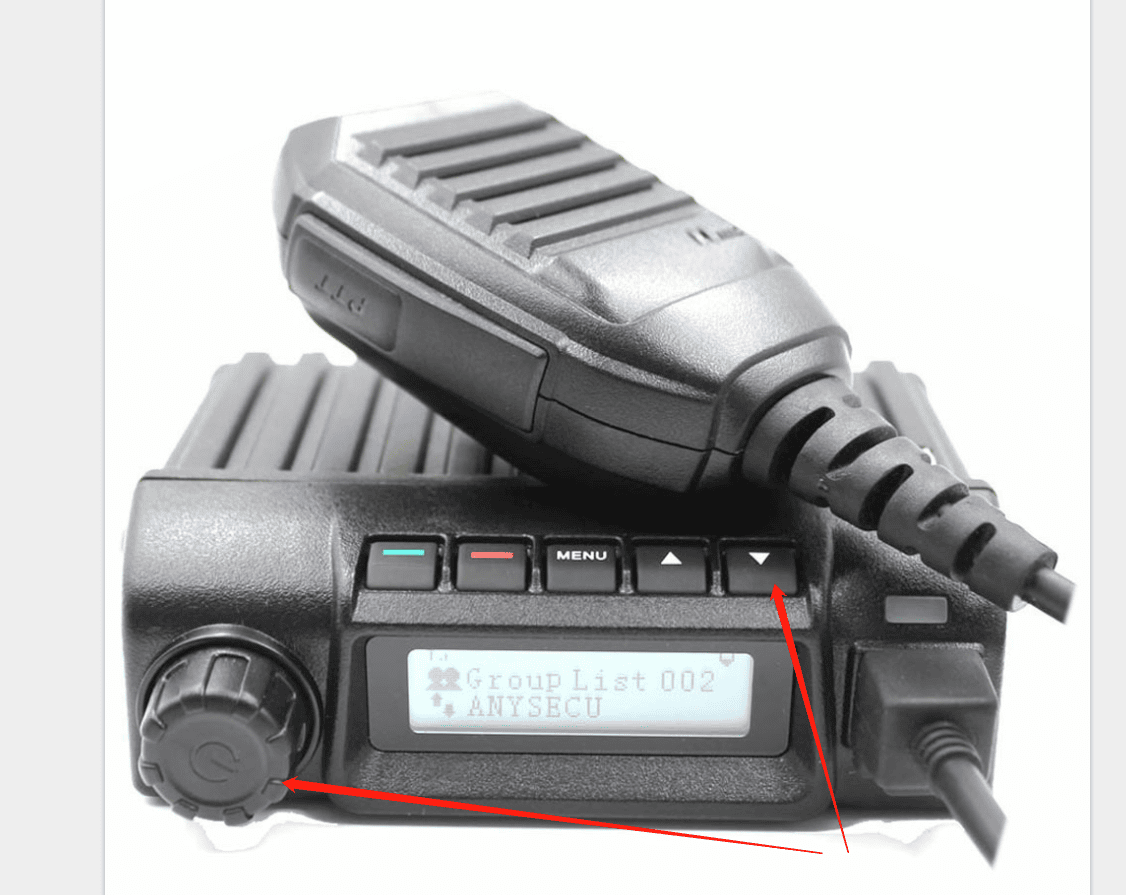 The radio display should show "Program Mode" and a user account.
On the software, click OK and then on "Read". This will show the radio current settings.
Change the settings as required.
You can change the Account and Password (for example, account: 4u39 and password: 000000);
APN settings should be the ones related to your cellphone operator. Check this table. Some operators require APN username and password. In most cases you leave it blank.
The URL depends on your location:
US: http://us%d.myptt4u.com:29999/
Canada: ca%d.myptt4u.com:29999/
South America: http://br%d.myptt4u.com:29999/
Europe: http://eu%d.myptt4u.com:29999/
Australia: http://au%d.myptt4u.com:29999/
Change the settings on the right side as per your liking. Make sure that TOT (Timeout timer is set to a maximum of 60 seconds)
Click on Write to save the settings to the radio. Make sure the GSM antenna is connected. (The GPS antenna is optional).
Switch off the radio and then turn back on. The radio will reboot one time, and then it should be connected to the network.